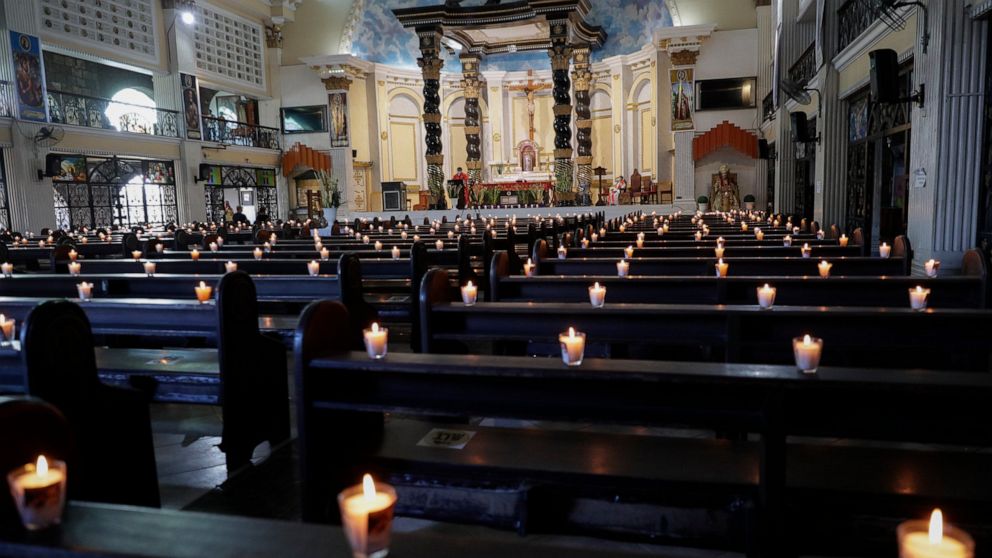 Pope Francis is celebrating solemn Holy Week ceremonies for a second consecutive year without the usual throngs of pilgrims and tourists, kept away by pandemic safety concerns and travel restrictions
VATICAN CITY — Pope Francis is celebrating solemn Holy Week ceremonies for a second straight year without the usual throngs of pilgrims and tourists, kept away by pandemic safety concerns and travel restrictions.
Francis traditionally leads a Palm Sunday procession through St. Peter's Square and then celebrates an outdoor Mass for tens of thousands of faithful.
But Francis led a Palm Sunday service this year inside St. Peter's Basilica just as he did last spring. That was just weeks after the COVID-19 outbreak erupted in Italy, which was the first country in the West to be hit by the pandemic.
Only about 120 faithful, including nuns and a few families, attended and were socially-distanced. They wore protective masks as did participants in the procession of 30 red-robed cardinals, but Francis was maskless.
———
THE VIRUS OUTBREAK:
— UK variant hunters lead global race to stay ahead of COVID-19.
— Longest-serving bookseller among 25,000 Czech virus victims.
— Mexico's real COVID-19 death toll now stands at over 321,000.
— Vaccines haven't cured loneliness in New York nursing homes.
———
— Follow AP's pandemic coverage at https://apnews.com/hub/coronavirus-pandemic, https://apnews.com/hub/coronavirus-vaccine and https://apnews.com/UnderstandingtheOutbreak
———
HERE'S WHAT ELSE IS HAPPENING:
LONDON — Even when there were just a few dozen confirmed cases of COVID-19 in the U.K., professor Sharon Peacock recognized that the country needed to expand its capacity to analyze the genetic makeup of the virus.
The Cambridge University microbiologist set about bringing scientists together to work on genomic sequencing. That has made Britain a world leader in finding new variants that are more dangerous or resistant to vaccines.
The work is part of a global effort, and scientists around the world are learning from Britain as they ramp up their work to respond to variants and stay ahead of COVID-19.
———
PELHRIMOV, Czech Republic — A year after the Czech Republic recorded its first death from the coronavirus, the central European nation paused this week to remember all the citizens who lost their lives in the pandemic.
By the end of the day on March 22, the number had surpassed 25,000. Few imagined in March 2020 that the country of 10.7 million eventually would have one of the world's highest per capita death tolls.
But it's not just grim statistics that have torn the fabric of Czech life. There's always a personal story behind each life lost. And the deaths of some people affected entire communities. Jaromir Vytopil, the country's longest-serving bookseller, was one of them.
———
MEXICO CITY — Mexico's government is acknowledging that the country's true death toll from the coronavirus pandemic now stands above 321,000.
That is almost 60% more than the government's official test-confirmed number of 201,429. Mexico does little testing, and because hospitals were overwhelmed, many Mexicans died at home without getting a test. The only way to get a clear picture is to review "excess deaths" and review death certificates.
The government quietly published such a report, indicating there were 294,287 deaths linked to COVID-19 from the start of the pandemic through Feb. 14. Since Feb. 15 there have been an additional 26,772 test-confirmed deaths.
———
NEW YORK — High rates of COVID-19 throughout New York have left the majority of its nursing homes closed for most indoor visits despite relaxed guidance meant to help open them up for visitors.
A little more than half of New York nursing homes were ineligible for indoor visits in mid-March. New York updated its visitation rules Thursday in a way that will now allow visits to resume under certain conditions, even if a resident has recently tested positive.
But that relaxed standard might not clear the way for visitation in many homes having trouble keeping the virus out.
———
BARCELONA, Spain — Five thousand music lovers attended a rock concert in Barcelona after passing a same-day COVID-19 screening.
The show put on by Spanish group Love of Lesbian on Saturday has the permission of Spanish health authorities. Concertgoers underwent antigen tests hours before the concert to test whether the screenings are effective in preventing virus outbreaks from large cultural events.
Those who tested negative were able to attend the indoor concert and mix freely while wearing mandatory face masks. The concert is an expanded version of a case study in December based on a concert for 500 people that organizers said did not produce infections.